Spring is here and in full swing which means it's time for spring cleaning for most of us. So along with the usual outside work around the house, I tend to evaluate personal belongings to determine what I still use and need. I'm amazed at the amount of crap one can acquire. I've been doing this for a few years. One of the things I did when I moved from NY was offload a ton of stuff. We'd have no basement to pile the endless amount of stuff or a workshop in the garage.
Settling here in Nashville I knew I was going to be working from home for again while trying to determine what I wanted to do next. I knew I was going to be getting involved and experiment with a lot of different things. So the priority was to really streamline a lot of how I did things as I tried to figure things out. I've been figuring out my new studio space in general so I thought I'd start addressing my music setup first. While I actually have more room in this space I'm looking to do a lot more in it consistently. It's no longer a weekend warrior situation.
I started by evaluating my music gear and my real needs to write and record. Now if you're a guitar player or if you're involved with one, then you know we tend to have a lot of stuff. Guitars, cables, pedals, amps, cabinets and everything in between. You know if you can't find a guitar pick just check the laundry room. There's bound to be a few in the dryer. I decided to finally sell some gear that needed to go. I bought the new Line 6 Helix Rack guitar multi-effects processor. I've owned 2 of their previous versions. This really is a different product. I'll be doing a post on this very soon. I may never have to want to mic up a guitar cabinet in the studio ever again. I know I may catch crap from some who believe you need to do it the traditional way but these units are becoming that good. Doesn't matter, pick one Fractal, Kemper, Line 6. They all kind of do their own thing but they all sound great. Does this mean I'll be getting rid of my other amps? I doubt it. I no longer have the desire in setting up an amp, mic it, set up some pedals and dial in a sound. Then move the mic around attempting to get a good tone for the song. Then try and get into a creative mode. Then start recording. Now it's all there. I just turn it on. I have a few basic patches that have my basic tones and plenty more to experiment with. The best part is they're consistent every day. I go straight from turning on equipment to being creative. All the while it's already set up to record. A lot less stuff and a lot more creativity – quickly. I'm a happy camper.
Next is my art gear. Working from home means a lot more time indoors. I'll be doing a great deal of work in the studio but I'm working more towards being more of a plein air painter. I paint outdoors now a bit. My current setup works just fine if I know where I'm going to paint and don't have to do a lot of walking to find a spot. It's kind of a lot of pieces to carry, set up and keep track of while being concerned with my surroundings during painting. I'd also like to be able to travel with the same setup. My current setup just isn't practical if I just want to grab and go. One of my favorite artists has an all-in-one setup. After seeing this while attending one of his workshops recently you can see where an all-in-one simple setup make things easier. It's all contained and less stuff to worry about so the focus can be on painting and being in the moment. Something similar is certainly in my future.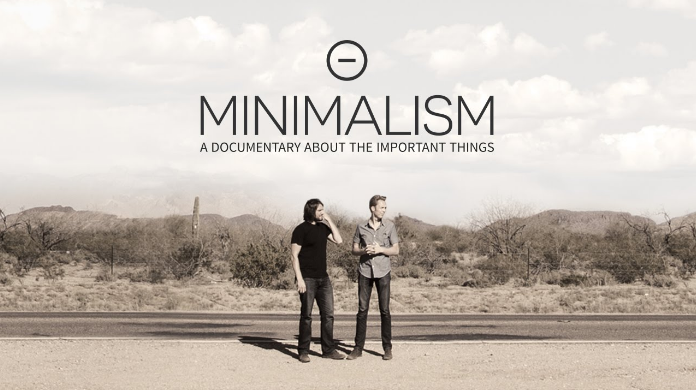 Ok so what does this really have to do to with the Minimalist movement? As I sat down to write this week's post on a completely different topic I turned on the TV mainly to just have something on in the background. Kind of out of character for me. Sometimes I'll put on some instrumental music but never anything like this. It only creates a distraction. I opened up Netflix and put on The Minimalists, which I've been wanting to watch for a while. A documentary from Joshua Fields Millburn & Ryan Nicodemus helping people live more meaningful lives. The film explores many sides of minimalism. But living life with less stuff is front and center. Everything you have has a purpose. The term "Intentional Living" was a constant theme throughout. Hmmm… I obviously didn't write the blog as I wound up watching the film as I quickly became engrossed in these ideas. So I decided to change the topic this week. Now I'm not looking to minimalize my personal belongings to fit into 2 carry-on bags as these guys did. Hell I probably have more art brushes than these guys have personal belongings. But there is a lot in the message that these guys are trying to get across. For me anyway. While watching I started to think about the parallels of these ideals and what I've already been doing in my own search of a new purpose. Maybe I've just been trying to find what would make me happy and the purging, streamlining and decluttering has helped  give me the ability to see a bit more clearly as to what the important things are – for me. The one lesson I've taken away from this is the ability to let go. Some physical. Some conceptual. Simple can be a good thing. It's worth a watch if you're in a similar place. If so, I hope you find some things that can work for you too.
Till next time…
Todd Saal is an American artist and musician currently residing in Nashville TN.
Copyright and Reproduction. The Artist reserves all reproduction rights, including the right to claim statutory copyright in the Work. The Work may not be photographed, sketched, painted, or reproduced in any manner whatsoever without the express written consent of the Artist.
© 2023 Todd Saal. All rights reserved.