It's been great to be able to stay in contact with so many people while we try to adapt to these strange and challenging times. I feel so fortunate to have had many folks reach out to ask questions and get help with critique since we've had to pause our in-person workshops and can't get together in person. I've been working and mentoring remotely due to my technology career for close to 30 years. So it was natural for me to get on video calls as I normally do to talk and show some techniques as this is becoming more common for everyone else now too. This has now taken on a life of its own and evolved into me putting real thought into this course, to augment my in person workshops. Not just what the material was going to be but how I wanted to present it. I've put together a multi-camera setup with an efficient workflow that I feel provides a very personal one-on-one experience.
My studio here in Nashville, TN is sort of my sanctuary where I can just be, relax and be creative. I always feel inspired from the moment I walk into my studio. No matter whether I'm creating art, music, sculpture or film. Adding the ability to capture and transmit my creative environment virtually wasn't taken lightly as I didn't want to make my home studio look like a professional video shoot with lights and cameras everywhere. At the same time I wanted to be able to film or jump on a call with no notice if I so desired. It was very important for me to keep the old school lounge feel I created here. That is why my studio is called – "The Lounge".
See details below for information on the virtual courses offered from The Lounge.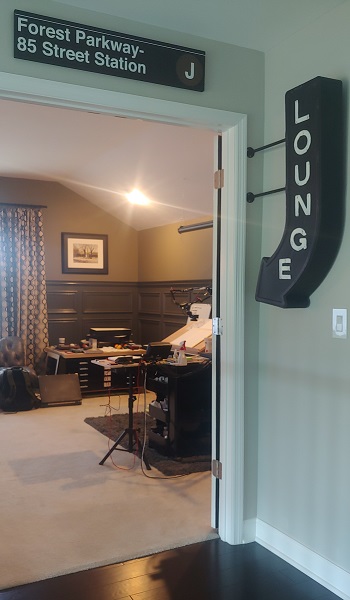 Course Outline
Fundamental Essentials
Values
Edges
Color
Design
Drawing Skills
Perspective
Finding You're Own Voice
Course Details
All lessons are one and half hours, live via video conferencing (see below for supported applications). Lessons are approximately 1 hr of instruction and the remaining time left for critique of previous lessons and goal setting. Lessons are scheduled weekly to give the student time to digest and work on each topic before moving on to the next lesson.
Essentials Intro
For a beginner or someone who is looking to get started in watercolor and doesn't know where to start.
Fundamental Essentials – Go over essential gear and an intro to the rest of the course

We discuss the path of learning the craft of watercolor. Balance the use of purposeful practice of technique to realize creative freedom.
Mechanics
These topics cover the unique fundamentals of how the watercolor medium works
Values – the importance of the palette and working with pigment and water
Edges – learn the significance of water and paper and the accuracy of when to place different values to create a variety of edges
Mood
We cover how we can use various color schemes to create different moods in a painting
Color – learn color theory and mixing.  We review various color palettes and how to use them to create harmony in our work
Design
The process of planning an overall design to a painting
Design – How to create a plan to translate an idea into a painting using various tools such as composition
Drawing
The importance of developing good drawing habits
Drawing Skills – the differences of drawing in your sketchbook and your paintings
Perspective – Linear and Atmospheric Perspective
Next Steps
Finding Your Own Voice – We often over emphasize the importance of technique. We unite the various topics of the course and discuss ways to improve our creativity and discover your own path.
Custom Topics
Looking to work on something more specific such as figures, simplifying subjects, etc…
Requirements and Environment
All lessons are one-on-one and provided live through various video conferencing platforms. A good internet connection is required in order to have a good experience.
My studio is configured with a multi-camera setup with automated switching capabilities allowing various items to be presented to the student without technical interruptions, keeping the flow of the lesson smooth and engaging.
Supported video platforms
Pricing
My Virtual Instruction lessons are available through the following packages:
Full Course – $600 – All 8 lessons – each lesson held weekly
Reduced Course – $450 – Any 6 lessons from the full course of the student's choosing
Single Lesson – $100 – Any lesson from the full course or a custom topic
To sign up or inquire about scheduling virtual instruction contact me.
Copyright Notice – © 2021 Todd Saal
All rights reserved. My work including all course material may not be reproduced, copied, edited, published, transmitted, recorded or uploaded in any way without my written permission.
Todd Saal is an American artist and musician currently residing in Nashville TN.
Copyright and Reproduction. The Artist reserves all reproduction rights, including the right to claim statutory copyright in the Work. The Work may not be photographed, sketched, painted, or reproduced in any manner whatsoever without the express written consent of the Artist.
© 2023 Todd Saal. All rights reserved.