Realizing My Path To Express Imagination

As the old cliche goes – youth is wasted on the young. Funny how we don't start to accept what makes us happy until later in life. Becoming really comfortable in your own skin isn't easy for some.
I spent much of my early childhood alone. So I made up an imaginary friend and created all sorts of adventures. I'd day dream and create stories of our escapades. I would also look forward to drawing pictures to illustrate the tales that I'd come up with. It became my way communicating with others. As I grew older I played with others but also was very comfortable being alone. I also began to tinker with everything. I love to know how things work. I'd take things apart and use the pieces to create something new. When I was in my late teens I started playing musical instruments. This just became another outlet to express my thoughts.
Now most days I'm back to working alone and isolated. There can be days that I won't see a single person.  I love even more now to get out and observe people and places. I'm fascinated with trying to capture the mood. No matter what it is. It could be the feeling of new city busy with tourists having fun, artisans working their craft, or people just going about their everyday lives. I'll even stop on the side of the road and capture cows or horses in the fields. Observing life's activities holds endless stories for me to translate into my paintings. I've come to learn that life's successes are in the journey itself. I've just decided to attempt to communicate some of life's moments creatively through art and music. Hopefully it'll allow others to interpret the subjects and create some connection that's meaningful to them.
"Observing life's activities holds endless stories for me to translate into my paintings. I've come to learn that life's successes are in the journey itself."
Here in Nashville as well as many places in the US, artisan coffee houses have become all the rage. Baristas take the craft of making coffee very serious. Strike up a conversation with one. They'll be more than happy to discuss the idiosyncrasies with you.  It's a form of art for them. And if you like coffee as much as I do, you get the benefit as well. It's actually one of my favorite places to go just to get out of my home studio and feel engaged. I love going to these places to grab some coffee, maybe a small bite to eat and just observe my surroundings. I do a lot of sketching of people in these places. Very different from me just popping my k-cup in my Keurig coffee maker.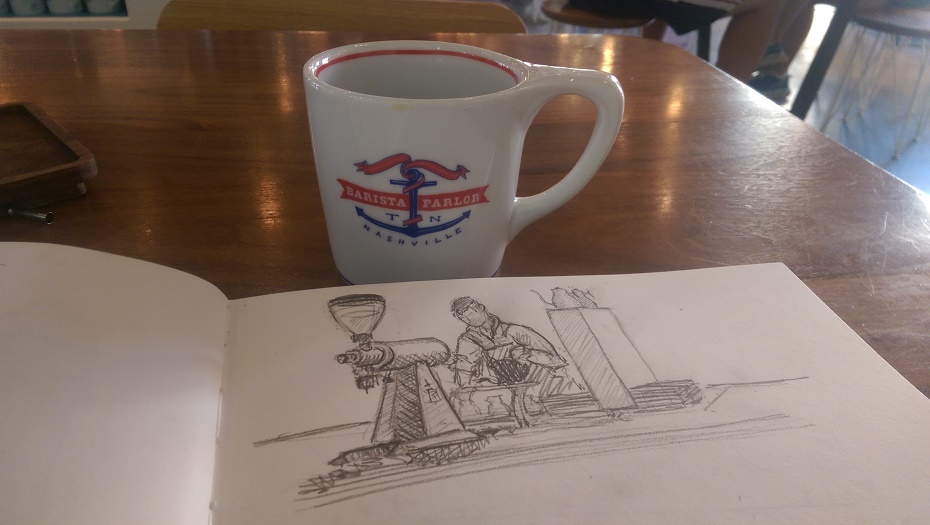 Barista Parlor is one of my favorite spots
The Gulch – Nashville, TN
The sketch here is of 2 baristas making coffee. It's so inspiring to watch them. Especially in this day of disposable products and good enough mentality. Here I tried to capture the quiet and relaxed mood but also some of the feeling of concentration I had of 2 people making a cup of coffee. Maybe they were making coffee for 2 people having a business meeting or maybe it was for 2 friends catching up who haven't seen each other in while.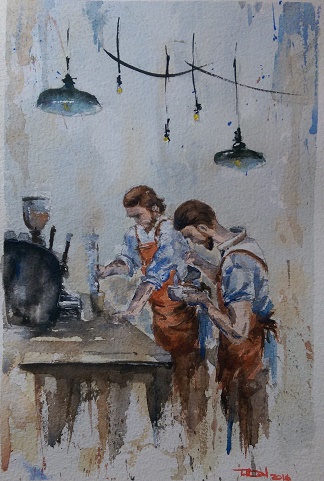 I'm drawn to try and create art that is an impression of the mood and feeling of what I see and not of necessarily directly of what is there. I'll add and remove things or just simply move things around. The 2 guys in the finished sketch were wearing all black. Shirts, pants and aprons. They were also at 2 different counters. Not a very interesting story. Instead I chose to change the hues to something warmer. All while keeping things a bit loose and let the water and pigments merge and drip. I could probably capture endless stories of the coffee house as there always such a diverse amount of activity going on there. You just need to take a few minutes to slow down, have some coffee and make up your own stories.
Todd Saal is an American artist and musician currently residing in Nashville TN.
Copyright and Reproduction. The Artist reserves all reproduction rights, including the right to claim statutory copyright in the Work. The Work may not be photographed, sketched, painted, or reproduced in any manner whatsoever without the express written consent of the Artist.
© 2023 Todd Saal. All rights reserved.