New Watercolor Series – Chef's

I'm finally back to painting after a whole month of taking some time off to recharge, getting sick, recovering, and putting together this website. So for my first series of work being back – Chef's. Chef's are now celebrities thanks to television. People now attempt to get into the cooking profession to become stars. Having spent a lot of time in kitchens myself, many don't realize that these men and women spend an enormous amount of time learning and improving their craft. They're doing this continually. Just like any true artisan. I did a number drawings while on vacation in Mexico a few weeks ago. I thought I'd do a series of paintings this week inspired from the numerous sketches I did of some the chefs, cooks, and waitstaff.
I'm excited to get back to painting. I was cleaning up some photos and reviewing some sketches of some chefs from my trip to Mexico. It was great hanging out and talking with them. One of the guys was an artist himself and he shared some of his work with me. It was a great time. I thought it would be great to do a few paintings this week of these people to get back into the swing of things. My goal of this painting was to just have some fun and get back to painting. I didn't want to get too hung up on composition, color, etc.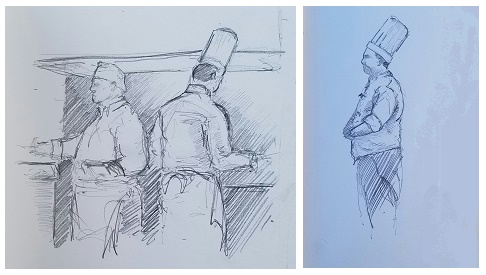 Sketches done on location while watching some chefs work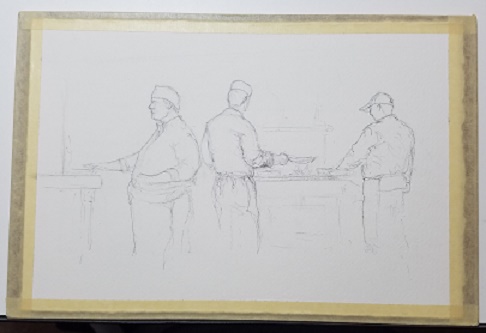 Here's the drawing I came up with. No real details. Just an outline to create a map of where to paint. So it's a couple of chefs during dinner service. 2 cooking at the stove and one sending out an order. At least that's the story I'm going with.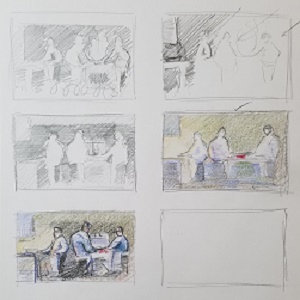 I usually do a couple of quick thumbnails before I commit a drawing for my paintings. They allow me to address composition issues. Work on my values. I'll also sometimes look at color continuity. But today I jumped right in and did my drawing first. Then after doing these thumbnails I wanted to change a few things but since I already did my sketch I left it. After this step I usually have a game plan in my head on how I'll execute the painting.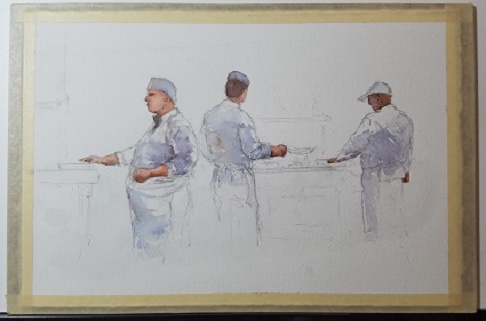 Since the chefs are the main characters I started painting them first by dropping in some color in order to define the major shapes characters.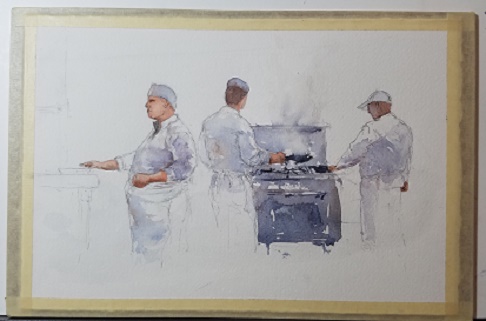 Next I blocked in the shape for the stove and added some smoke. I did this first as I knew I wanted to add the background next and wanted it to blend with the smoke. I'll probably try it the other way around on the next study to see which way I like better.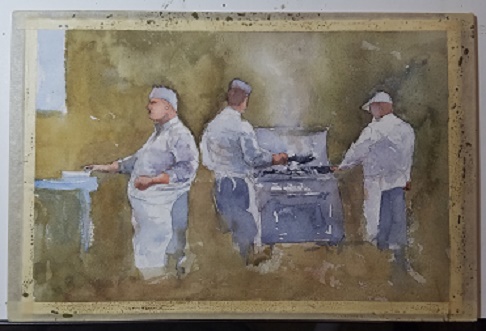 I added the background and just kept dropping color in to create variations. I liked the way the color made the chefs stand out against the background. Next painting I'll think more about the overall composition so the chefs aren't just floating out in the middle of picture.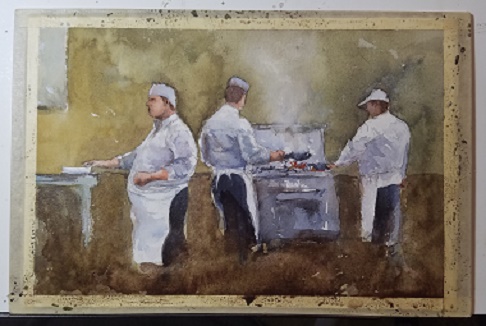 At this point I attempted to create some sort of foreground so the chefs wouldn't be floating. After adding some darks to the foreground I figured I would only take this so far as one of the problems with it is I didn't really look at the overall composition in the beginning. I'd save it for the next painting.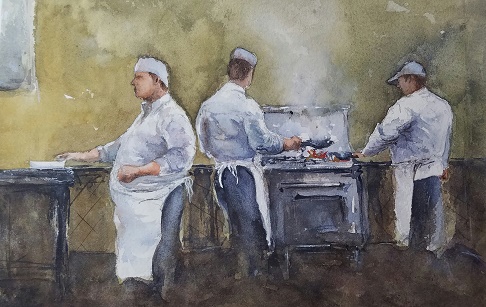 So here's the final study. A few things I like. A few things I don't. Most of all I was just happy to be painting again. Tomorrow I'll do another attempt.
A lot of times when painting from photos I'll print the picture. I'll draw and paint over things to improve upon what's there or maybe what's not there. Notice that just a simple crop to the final picture already makes things a lot more connected and therefore a much better composition. I hope you enjoyed the process. I enjoyed sharing it. Till next time.