Christmas Time in New York City

Todd Saal, New York City, NY
I was thinking about my friends back in NY last week. Well truth be told I was really thinking about the fact that I didn't have to shovel and plow out my driveway of all the snow after the blizzard they just had. The snow is the single most thing that I don't miss about living there. Even though I now live in Nashville I go back to NYC at least twice a year. I get some work accomplished but I also make some time to have some fun and catch up with some friends while I'm there. Probably more so than while I lived there.
I was in NYC for about a week right before the Christmas holiday. It's a great time to visit there. My plan for the week was to search out some places to paint and stop by some of my usual haunts. This trip also coincided with a holiday party at a cool art gallery called The Breadth Within off the water on the North Shore of Long Island in Roslyn NY. I am fortunate enough to have some of my own work on display there amongst some many fine artists. If you're ever in that area go check it out. The owner is also an artist and photographer and she does some really great work.
The weather this winter in NY has been warmer than normal. So of course the week leading up to this trip the northeast gets hit with some really cold weather. It was really, really cold and windy that week. Even colder than normal. Getting some time to draw and paint outdoors was going to be interesting. I like painting on-sight to capture the atmosphere and mood of subjects before doing studio pieces. I can later recall the moments spent outside like they were yesterday. Much more so than capturing them with just a photo. And of course on this trip how cold it was :). So on the first morning my wife and I start knocking off our NYC food fixes. First up – breakfast. Bacon, egg and cheese on a roll to be exact. Not the healthiest things but its a NYC staple when you're on the run. I try to explain breakfast on the go from a deli in New York to others and I get looks like I'm nuts. While I'll admit that unless you've lived there it won't make sense. Down in Nashville it's sit down meals for everything. They sit down, talk to each other, etc. Its just different. Definitely an adjustment. After this delicacy we went for a walk and it starts to snow. Anyone who knows my wife and I knows how much we despise the snow. Our hatred for the vial white stuff runs deep. Oh it's pretty to watch coming down. You know, curled up on the couch, maybe with a good glass of wine. But that's it. So a quick trip to the store to buy something to cover my wife's ears was now in order. Now that she secured warmer head attire she takes me to the corner of Jay St and Staple St which isn't too far from her office downtown. She loves the view of this street and wants me to do a painting of this stop for her office back in Nashville. It was a great spot. Old school NYC, and really quiet. I took some pictures but decided I would go back without her to do some sketches. It was just too windy, cold and oh yes it was still snowing. We walked around some more playing tourist but soon hunger and the need for warmth started to take over. So it was time to walk back towards the hotel and find a place to eat.
What does one do on a frigid, snowy NYC day? Warm up in a wine bar. Eat some food. Drink some wine. Do some sketching while doing some people watching.
Photograph taken at Le Bar in Le District in downtown Manhattan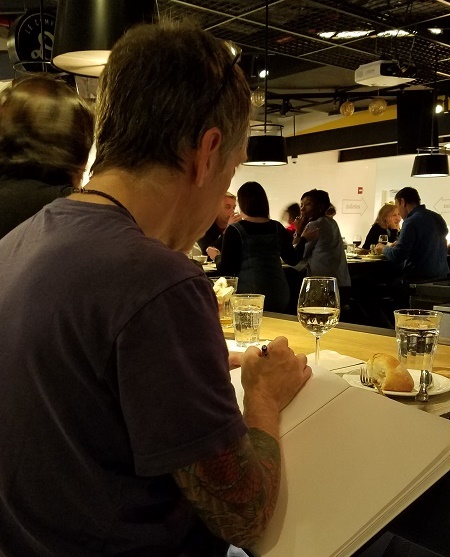 It was a great weekend. We went to the gallery holiday party. We met some fantastic people and checked out some cool art. We also met up with some longtime friends for some holiday festivities and even consumed another food fix the next morning – the New York bagel. Sorry Nashville, its oh so good. So the traditional work week starts. My wife heads out to the office for the day while I head out to for my first day of drawing and painting. I walked back to the corner of Jay and Staple. Even though it was cold I figured I'd at least do a sketch of the place and walk around some more. Once I started drawing and just looking at the place I decided to do a quick on-sight painting as well. Now here's what I love about painting in NYC versus many other places. In many other places I'll meet and talk to so many great people as they come up and inquire as to what I'm doing and painting. In NYC? The majority of the time, barely anyone notices nor cares at all. Well maybe they do but as a native New Yorker myself, we just don't give a shit. Not self absorbed or anything, just the excuse of busy. We need to get from here to there. On this particular day, other than the cop stopping to chat and see what I was doing, many people just walked passed me without barely lifting their heads up going about their day. I finished the quick sketch painting and decided to move on as my feet were feeling a little numb. Off to Chelsea. I figured I could grab something to eat and get out of the cold for a bit.
"Anyone who knows my wife and I knows how much we despise the snow. Our hatred for the vial white stuff runs deep."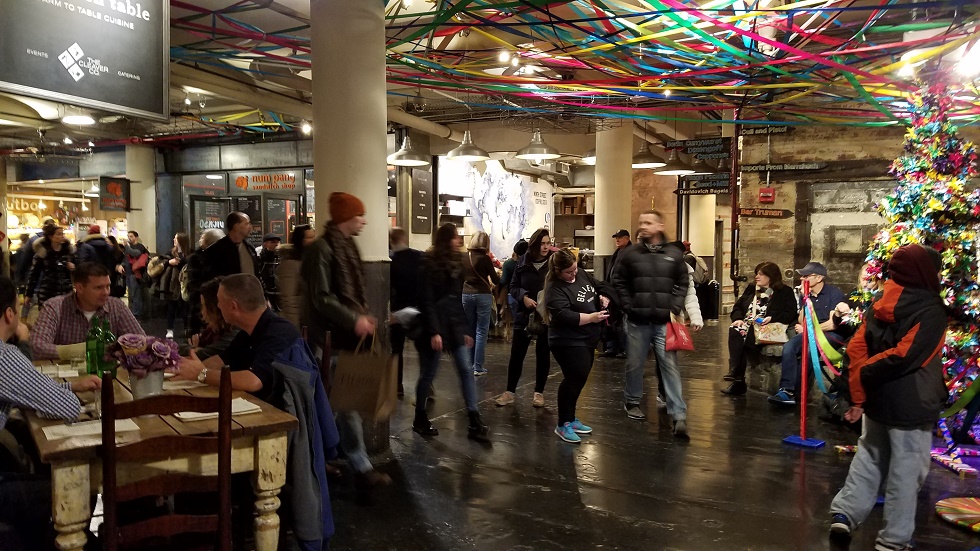 Spent the afternoon in the Chelsea section of Manhattan. I stopped by the Chelsea Market to grab a bite, and sketch while doing some people watching.
Chelsea Market Food Court in Chelsea, NYC
Rockefeller Center
You can't be in NYC at Christmas time and not go see the tree at Rockefeller Center. While living in NY my wife and I have gone to see the tree this for years. We usually would go the week between Christmas and New Years. There have been times it was so packed you could barely more. It was our first time on a weekday evening. It wasn't packed at all. We walked around and enjoyed the sights before meeting up with a friend of ours for dinner and drinks.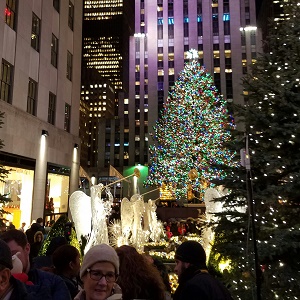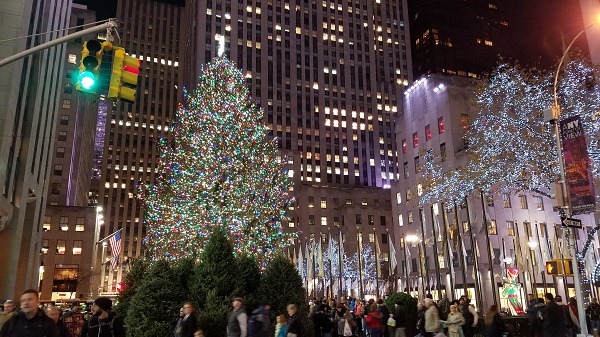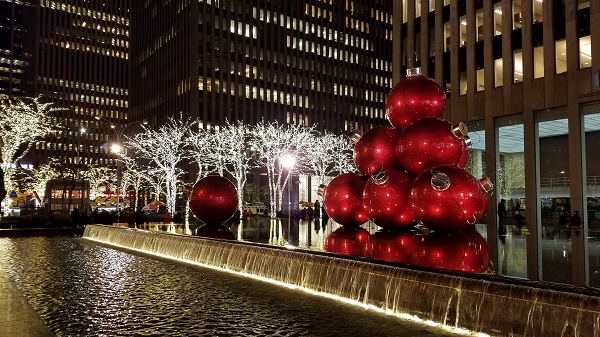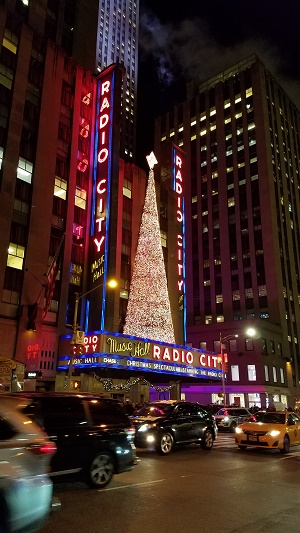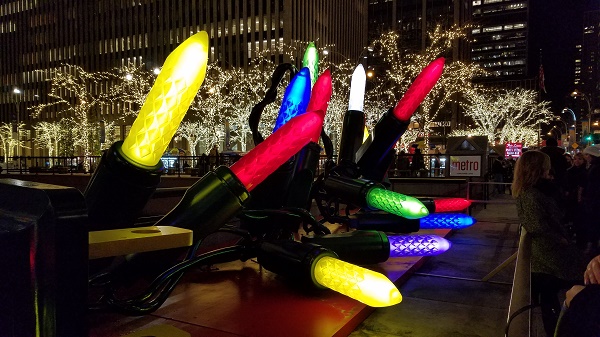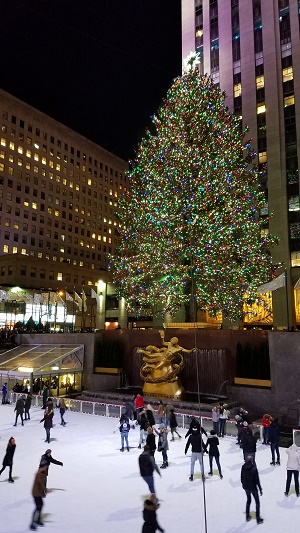 We still had a few more days left to our stay. The coldest days of the week were still to come. And yes a little more snow was in the forecast. I'll continue Christmas Time in NYC in Part 2. Till next time.
Todd Saal is an American artist and musician currently residing in Nashville TN.
Copyright and Reproduction. The Artist reserves all reproduction rights, including the right to claim statutory copyright in the Work. The Work may not be photographed, sketched, painted, or reproduced in any manner whatsoever without the express written consent of the Artist.
© 2023 Todd Saal. All rights reserved.